Vizsla Design Is New On Merch
For Vizsla lovers everywhere, I created a new design for Amazon Merch. For those who don't know, the Vizsla is a dog breed from Hungary that has some fanatically loyal fans. They are a hunting breed, with a very lovable temperament. A dog who is affectionate and loves to be, make that needs to be with their humans.The design created was from a watercolor of the Vizsla encircled with painted vining wreath.
I haven't mastered the Merch site yet. All my sales are made on Zazzle.
Vizsla Love ( And Other Puppies) On Zazzle
This print was originally created for the Zazzle site, along with an ever growing number of breeds depicted. So far I have the Vizsla, the Scottish Terrier, and the Boston Terrier. Each one has a different vining wreath surrounding them.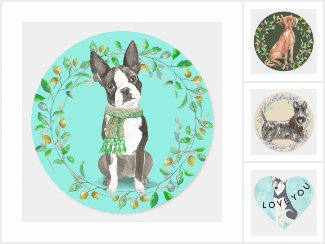 Puppy Love
by
Ilona
Faith Design
Here is the other Tshirt that is live on the Amazon site. It is a design with a faith message.
I bought one and love the quality of the shirt. Sizes run small which is also true of many brands sold on Zazzle. Plus size women should probably purchase men's sizes and average women should order their shirts one to two sizes up.
Abundance of Riches
That describes the amount of investment I have put into graphics resources, not the amount of money I am presently making. I have bought lots of graphics supplies such as textures, vectors, vintage pictures and elements, watercolor elements and papers, etc. etc. I am only now beginning to really design with them. I have to stop buying them!
The extended licenses allow me to put the artwork I buy into the P.O.D. designs. Like my early days on my websites, this design work is in constant experimentation. I am learning about styles, creating things digitally, and graphics programs. This is paired with learning how to use the Zazzle, Merch, and now, Red Bubble sites. (yes, just started Ilona's Garden on Red Bubble).
At the moment I am concentrating on making two types of pictures. One is the kind the uses my original photos and adds texturing and other manipulations to add interest. The other is a more commercial undertaking which utilizes the many graphics resources to create the type of things we often like to buy. Cute things or patterned ones, as well as invitations to events, etc.
I hope you enjoyed this peek into the things that I am working on right now.